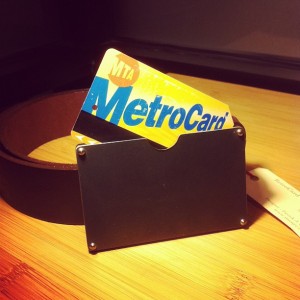 There's something truly inspiring about the fusion of form, function, design, and fashion. Any two of these elements can come together to create a unique piece of art, furniture, clothing, or jewelry.
But to combine all four?
That's when you get something really amazing. And the limited edition RetroCard Belt Buckle from the brilliant artisans at Brooklyn-based custom metal fabricator, TMRnyc, is one really cool belt buckle.
What Makes This Such A Cool Belt Buckle?
Each hand-produced, individually numbered RetroCard Belt Buckle is made of a hot rolled steel front plate that is flawlessly riveted to a rectangular, blackened steel back plate. With daily wear, this artisan-signed and –dated piece will develop a unique patina, making it as individual as the wearer and more beautiful with age.
But what makes TMRnyc's latest product so awesome is the fact that it's duly functional:  it not only holds up your pants, but it holds your MetroCard or other type of public transportation fare card.  Nice!
With a small, semi-circular notch at the top of the buckle, city dwellers have easy access to their fare card at all times. The slim compartment between the front and back plates is richly lined in red felt, keeping your card secure yet handy at the turnstile, and keeping your hands free and your wallet secure.
For the Guy Who Has Everything
Designer Patrick Quinn's RetroCard Belt Buckle, combines form, function, design, and fashion in each New York-inspired individual piece. An ideal gift for that guy who has everything but still wants something fantastic for his birthday, each and every RetroCard Belt Buckle is presented in a foil-stamped, stylish box-and-slipcover package.
Designed by Zachary Feltoon, the boxes are hand-numbered to match the numbering on the buckle itself, making this not only a cool belt buckle, but also a really cool gift.
Get your own RetroCard Belt Buckle now