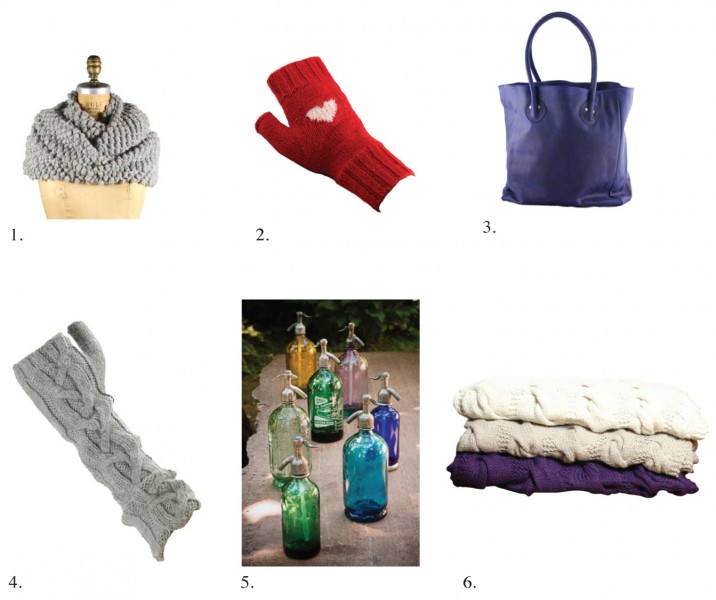 There's less than two weeks left to get your holiday shopping done and we're here to make things easy for you.  Check out Object Mythology where there is something for everyone on your holiday gift list:
1.  Ella Infinity Scarf – hand knit from baby alpaca, the Ella Infinity Scarf is super versatile and can be worn many different ways.
2.  I-Heart Gloves – for all the ladies who want their hands to be as warm as their hearts, the I-Heart Gloves are the perfect accessory for this winter season.
3.  Sadie Leather Tote Bag in Twilight – perfect for work, travel or play, the Sadie tote bag is made from super soft, top quality Argentinian leather.
4.  Stella Fingerless Gloves -great for use while working, texting, driving or pushing a stroller, the elbow length Stella Fingerless Glove is a great gift for the lovely lady on your holiday list.
5.  Vintage Seltzer Bottles – don't know what to get the man on your list?  These Vintage Seltzer Bottles from Argentina are the perfect gift addition to anyone's home decor.
6.  Uma Baby Alpaca Throw – this hand knit baby alpaca throw is the ultimate gift for that special someone on your gift list.  Luxurious, super soft and warm you'll want to wrap yourself in it for many winters to come.  The Uma baby alpaca throw is hand knit by artisans in the Peruvian Andes and is so special it takes a knitter 7 days to knit this fabulous through – a must have for that special someone on your list.
This holiday season, Object Mythology is donating 5% of their sales to One is Greater Than None to raise money to fund efforts to provide medical assistance to uninsured Americans in rural areas.  In addition, your purchases creates social impact by providing work to their over 115 artisans in the Peruvian Andes and in turn, they are able to provide the basic necessities for their families.  Read more about Object Mythology's efforts to create social impact in Peru and check out many of their other wonderful baby alpaca items at Object Mythology.