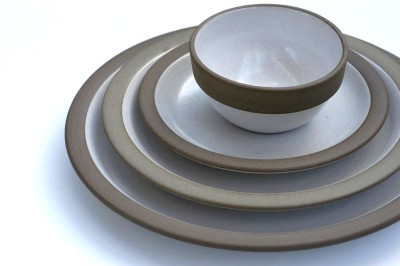 I've been a big fan of Heath Ceramics for some time now.  I was delighted to visit their outpost at the Ferry Terminal Building in San Francisco.  Filled with wonderful mid-century American Pottery, their tableware line are classic and timeless.
Started more than 55 years ago by Edith Heath, all of their tableware and tile is made in their Sausalito, California factory. Each piece is handcrafted using the very same kilns used by Heath.  The clay and glazes used to make their beautiful pottery are carefully concocted using her special recipes.
My favorite – The Rim Line – a classic dinnerware set – luxurious, understated and timeless.  It provide the perfect backdrop for that special meal you're preparing for your friends and family.
Be sure to check out their tile offerings as well – perfect for those wonderful Eichler homes I've been lusting over these days.
For more information, go to Heath Ceramics.