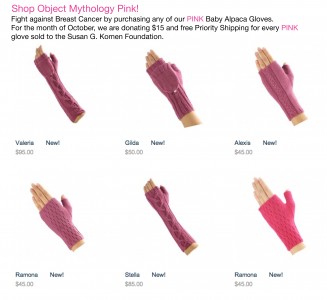 Fight against Breast Cancer by purchasing any of Object Mythology's PINK gloves.  For the Month of October, we will donate$15 for every PINK glove sold to benefit Breast Cancer Research.
Everyone has been affected by Breast Cancer.  Whether you've been diagnosed or know someone who was diagnosed YOU can make a difference.  Join Object Mythology to help stamp out  Breast Cancer and save lives.
Not only do our gloves impact society by providing work for single mothers in rural Peru, we join the fight against Breast Cancer.  Everyone can make a difference by purchasing a Pair of Object Mythology's fabulously chic PINK Baby Alpaca Gloves.