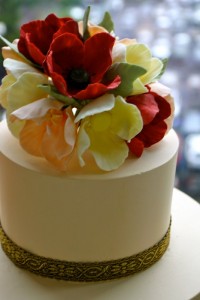 Perfect Accessory for Your Wedding, Birthday, or Anniversary Cake
I had the pleasure of meeting Amy DeGiulio of Sugar Flower Cake Shop who creates the most beautiful, delectable cakes from scratch using the freshest, high-quality products from local farms and New York City's Greenmarkets.
What's amazing about Amy's cakes is the way she uses handmade sugar flowers to create beautiful floral arrangements that adorn and accent her custom cakes.
Inspired by her original location in the bountiful Hudson Valley, Amy continues to use locally sourced ingredients.  She creates these couture cakes from scratch topping them with her handmade, artistically designed custom made flowers from sugar.
Beautiful and Realistic Sugar Flowers
When I first saw the flowers, I thought they were real!  Amy told me they're made from sugar so they will not wilt and will retain their natural appearance.  When arranged on cake, they give it a magical look that makes the centerpiece (for some people!) of the special occasion  really come alive.  After the party, you can even store them under glass or in a box to preserve memories of the special day.
If you don't need an entire cake, Amy can provide you with only the sugar flowers that you can place on your own cake.  This is perfect for those brides with an all-inclusive wedding package or who are planning a destination wedding.
Amy can ship her delightful sugar flowers worldwide so you can add the arrangements to your cake yourself or with the help of a friend.
For more information on how Sugar Flower Cake Shop or to book an appointment, please contact Amy DeGiulio at 917/639-3901 or [email protected].