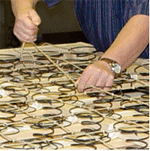 Is your mattress feeling lumpy, and do you find yourself waking up at 3 am because your back aches? Then, it's time to step up your sleeping game with a bed from the masters at Charles H. Beckley. These handmade beds have been around for more than 70 years, and like many things, age is often an sign of distinction, experience, and quality. Just look at Jack Nicholson.

The Beckley headboards, mattresses and boxsprings are all handmade, and there are several options like firmness, ticking material, and a choice of five different mattress types including horsehair, cotton felt, and foam. You can even send them your own fabric, and they will upholster the headboard, mattress and boxspring for you.

At Cheekyliving, we prefer the Bristol to comfort our slumber. You can buy your own Beckley bed directly from their showroom or through your decorator. Isn't it time you gave up calling those 800 number mattress companies? That extra "S" is not for savings. It's for "should have bought a Beckley".

Check out the beds at Charles H. Beckley, Inc.