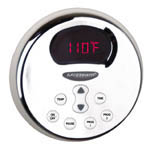 After your workout, don't bother with the steam room at the gym. Ditch the gym and enjoy your own steam bath in the comfort and privacy of your own home with the MrSteam Home Steam Room.

MrSteam has been making steam generators for years, and you can tell by the quality and thought that has gone into this appliance. From the control panel to the AutoFlush mechanism on the water tank, these guys have thought of everything.

Your need three things from MrSteam to get going: a steam generator, a control panel, and a steam head. Once you've installed the steam generator nearby a suitable steam enclosure and attached the steam head and control panel, it's simple to operate. Just turn it on and set the temperature. That's it. The fancier control panel can be programmed with certain temperatures and durations for those of you who like it extra cheeky.

The steam head contains a special chamber for adding essential aromatherapy oils. This can be put to good use to help get your relaxation on. Adding some lavender oil and taking a steam for thirty minutes will definitely chill even the most stressed out cheeky reader.

Check out MrSteam Home Steam Room packages.