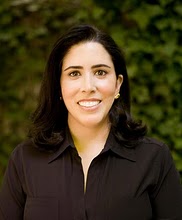 A few weeks ago, I had the wonderful opportunity to meet a fellow blogger, Marisa Marcantonio.  Her blog STYLEBEAT is a wonderful resource about all things interior design including great information for furniture, accessories and more.  Check out her latest blog post about the wonderful things she discovered at the August 2010 New York Gift Fair.
Marisa's previous experience as Senior Style Editor at O at Home and Style Editor at House and Garden Magazine along with her current position as editor of the Cohen Design Center's godesigngo.com blog and editor of stylebeat.com allows her to come forward and tell her readers and followers what she thinks is news in the world of interior design.
Thanks Marisa for keeping your readers up to date on all things fun and chic!