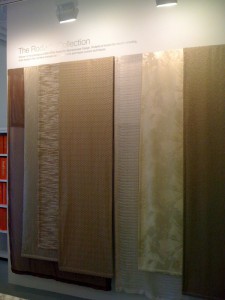 Knoll-Luxe has just opened its showroom on the 17th floor at New York's D&D Building.  It features the Knoll Luxe collections of residential and commercial fabrics designed by iconic fashion houses like Rodarte and Proenza Schuler.
I'm loving the hot new fabrics in wonderful textures and colors such as the Sandis in Pewter and the Emerson in Raven.
Stay tuned for future posts on the fabulous fabrics Knoll Luxe has to offer.