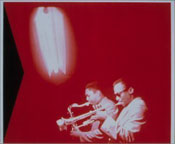 If you don't like jazz, we at the Cheeky don't care about ya. Keep stepping, young rube. If you do, then you may already have what we feel is the definitive box set for the Miles Davis lover. Covering the period between the mid 50's to early 60's, this is Davis and Coltrane in high form. Kind of Blue, a definite watershed album, was made during this period and the tracks on it, and many many more, are all contained in this set.
The old school recording, live to analog tape, has a directness and lyricism that must be heard to be believed. In particular, check out 'On Green Dolphin Street' and three different takes of 'Fran Dance' to get a feel for the genius of Davis' play. This is serious business.
You will intstantly notice the difference between jazz as Davis and Coltrane do it (Cannonball Adderly is also on a good number of tracks) and the rubbish you might hear at the dentist's office. If you still prefer to listen to John Tesh, 'Live at Red Rocks' then you can go suck an egg, as the Cheeky is too good for you to put your boca on.
Get the Davis and Coltrane box set at Amazon