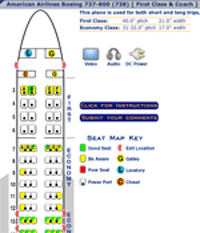 At cheekyliving, we take lifestyle seriously, and we especially take airplane lifestyle seriously. If we know we need to take a plane to get to our next cheeky destination, then our first stop is always SeatGuru to locate the best seat available on the plane.

Many airlines now let you check-in up to 24 hours before your plane departs. But before you check-in, find your airline on SeatGuru and select the type of plane that you will taking. You'll be able to see the layout of the plane as well as a rating for all of the seating areas. You'll also see which rows have power available for your laptop or DVD player.

Of course, the cheekiest flyers will only have to limit their search to the front of the plane, but for the others, they should look in the middle of coach. That's where the exit row is located – AKA "Poor Man's Business Class". Be careful though, on some planes, some of the exit rows don't recline at all so choose wisely. SeatGuru will let you know what's best for you.