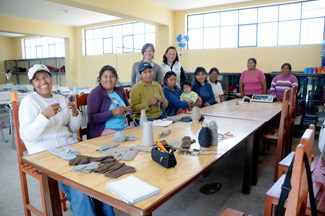 Three years ago,  while living in South America, I had the opportunity to visit Peru.  A country filled with deep rooted culture and tradition, I became inspired to start my fashion and home accessories line.  Soon after, I made the decision to work with these wonderful artisans to create, one of a kind luxury but practical handmade items that would bring a source of income so desperately needed by many of these individuals to support their families and community.
Mostly single mothers, many of these women turned to knitting after working in construction and factories often enduring hours of hard labor.  Object Mythology currently works with over 100 artisans in three cities.  One of our groups currently works with individuals with disabilities.  Five out of seven of our weavers in Arequipa are hearing-impaired.
Recently, while in Peru I spent some time with a group of 16 women who create Object Mythology's wonderful baby alpaca gloves.  Started by a local non-profit organization in Peru, these women received their training in order to empower single woman to learn a skill that provide incomes for their families.  They have since joined together to form their own collective.  Many are single women, who have not completed education beyond primary school and in many situations they have been abandoned by their husbands, thus many are trying to raise four children on their own.  Their ability to provide for their families from their knitting give them self worth, improves their living conditions and daily life.  Prior to entering the program, they often had to work illegally in brick factories along with children to make little money to support themselves.
Each purchase you make from Object Mythology's Baby Alpaca product line allows us to provide more work for these individuals.  Every little bit counts!
Check out Object Mythology's Baby Alpaca Products here.
To learn more about Object Mythology's social impact efforts in Peru click here.