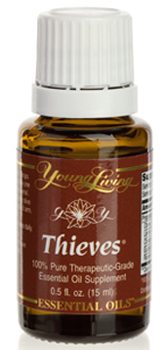 Folks here at Cheeky Living are totally hooked on aromatherapy.  For those of you who read my Eat, Pray, Love blog article, I always bring a small amount of Young Living's Thieves Essential Oil blend with me wherever I go.
They say there was once four thieves in France who guarded themselves from the Black Plague with a number of key ingredients including Clove, Lemon, Cinnamon Bark, Eucalyptus Radiata and Rosemary.  Safeguarded against rampant disease, they were able to rob victims who had been struck by the plague.
When I'm on a plane, subway or bus, I sometimes put a few drops on my neck and I'm safeguarded against germs.
Thieves is available in the following formats:
– Thieves Essential Oil Supplement
– Thieves Waterless Hand Purifier
–Thieves Oral Care including Toothpaste, Dental Floss and Lozenges
Enjoy and stay well!
The information on blog is for educational purposes only. It should not be considered as a substitute for consultation with a licensed healthcare professional or as a replacement for any medical treatment.