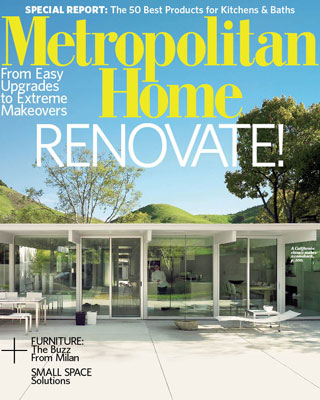 Every time I head to Northern California, I often find myself totally hooked on California Modern Architecture.  On this trip, I've been interested in homes built by Joseph Eichler's company – Eichler Homes.  Built between 1950 and 1974, Eichler enlisted top architects such as  to design and develop planned communities for the middle class American.
Eichler's signature concept was to "Bring the Outside In" by integrating indoor and outdoor spaces.
Typical features in an Eichler Home included floor to ceiling glass walls, post and beam construction and open floor plans making his spaces light and airy creating the perfect backdrop for furniture by designers such as Charles Eames and Mies Van der Rohe.
-Cover from Metropolitan Home, September 2009.