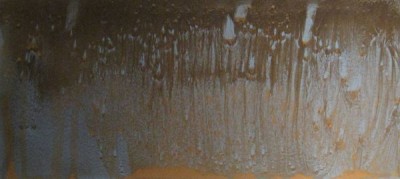 Teresa Pereda deals primarily with nature's elements: water, earth, air and fire.  In a series of papers and metal plates, she has used soil and water belonging to different regions in Argentina as the mediums to expose the mysteries of cosmogonies and mythologies of her own.
By the act of collecting, I am trying to conciliate, connect and join social, regional, ethnic and linguistic diversity; to go beyond fragmentation. No exclusion. I call for the re-creation of the feeling of nation, community, collective identity and common
will.  Once I return to my workshop with the soil, I process it and include it in my work. I make paper, engrave maps with soil and include the soil itself as a dynamic element in glass boxes, in an installation or in an artist book.
Teresa's work can be seen at  Art & Living: Emerging Interiors until Sept. 30th.
For more information about Teresa Pereda's work or to purchase any of her works, see her galley on Cheeky Living.