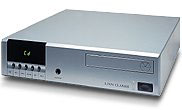 Quality of life and quality of sound are two of the most important issues for us at the Cheeky. Often, they are at odds with one another when we're contemplating a new sound rig for our new pad, but we've been able to find a solution that pleases both the audiophile and decorating-phile.

The Linn Classik is no ordinary lifestyle/executive integrated system. While it has the ability to play CDs and tune-in radio, this is not the type of all-in-one you'd find at Best Buy. Linn is a well-known and respected manufacturer of high-performance audio gear that has been around since the early 1970s. Best known for their turntables and loudspeakers, Linn has proven that they can deliver on an integrated lifestyle system that can perform well and also fit in a small enclosure.

The amplifier delivers 75W per side which is plenty to power a set of nice bookshelf speakers. We recommend the Linn Kans, if you can find a pair (Linn stopped making them), but the Cheeky has also used the Linn with a pair of DynAudio Audience 52s, and the sound is rich and warm. If you're someone who likes more of the low frequency, you'll probably want to add a subwoofer to your configuration. Just don't go crazy playing all those crunked-out jams at high decibals. Your neighbors will be knocking down your door.

You can find a Linn Classik at a high-end stereo dealer, and it typically lists for around $1950, or you can also check out Audiogon to see if any are selling on the secondhand market.