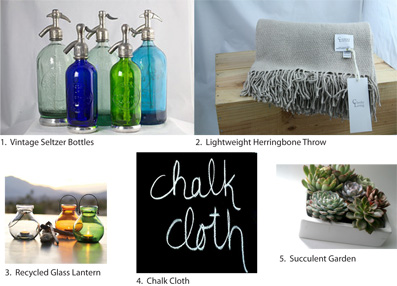 With summer just beginning, there are lots of great summer accessories to inspire coastal living, summer fun, and sultry days by the pool.  Here's my a few of my favorites:
1.  Vintage Seltzer Bottles – Dating from the 1930s, these one-of-a-kind seltzer bottles, or sifones in Spanish, are available in vibrant, jewel tone colors.
2.  Lightweight Herringbone Throw – Lightweight and inviting, this handmade 100% baby alpaca throw is handmade by artisans in the Peruvian Andes.  Perfect for a cool, cozy night at the beach or in front of the fire
3.  West Elm's Recycled Glass Lanterns – these lanterns are the perfect way to create a wonderful outdoor glow in any setting.
4. Chalk Cloth from Oil Cloth Addict on Etsy – the perfect way to cover your table and provide hours of entertainment for kids and adults alike.
5.  Hens and Chicks Echeveria Succulent Garden from Monkeys Always Looks on Etsy – this fabulous desktop garden is the perfect way to add some summertime fun to your office.  Comes in a beautiful white, modern ceramic planter.