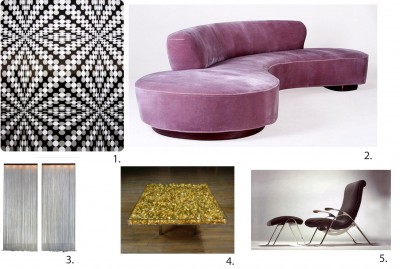 The talk of the town is that LeBron may be moving to NYC, Chicago, Miami or LA.  This leads us to the next question:  How would you design LeBron's next swanky pad?
Here's my take on what King of Basketball's newest living room should look like:
1. Pleasure Dome Wallpaper From Flavor Paper.
2.  Serpentine Sofa by Vladamir Kagan available at Haute Living.
3.  Pair of String Lights by Mariyo Yagi, c. 1970 available at Todd Merrill Antiques.
4.  Table designed by Yves Klein containing 3000 sheets of gold leaf, c. 1961 available at A/D Gallery.
5.  Multi-Position Armchair by Vladimir Kagan available at Haute Living.
Check out Halstead's latest campaign, Every King Needs A Castle, that tries to convince LeBron James that NYC is where he should be.