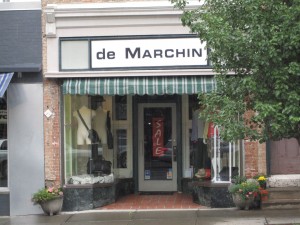 Many of my weekends are spent up near Hudson, New York.  I first started going to Hudson about 10 years ago on shopping trips to buy antiques and furnishings for clients.  Here's a list of my favorite shops in Hudson:
1.  de Marchin/côté famille:  This is the go to shop for great clothes for men, women and kids.  They carry wonderful kid's clothing and toys (plan toys are my favorite!) and often I find things that I have not seen in NYC.  When I was there last weekend I was coveting a great jacket made from old military jackets by a German Designer.
2.  Birgit Antiques:  Sourcing many of her items from Scandanavia and Sweden this is a wonderful little shop with great pieces of furniture.  On recent visits, Birgit had great industrial tables for dining and wonderful folding chairs – great when you need additional seating.
3.  Le Gamin:  Wonderful french cafe/restaurant.   Delicious salads and sandwiches and the coffee is excellent.  Sit at a table on the sidewalk and spend the afternoon people watching.
4.  Baba Louie's:  We absolutely love this restaurants.  The best thing crust pizza and salads north of the city.  This is our usual pit stop on our way up for dinner.  (Also in Great Barrington)
5.  Hedstrom and Judd:  Great shop for wonderful garden accessories, planters, swedish furniture and accessories. They also have a wonderful like of botanical, bird and speciman prints. You can find Cheeky Living's Alpaca throws at Hedstom and Judd!