We were lucky enough to get an personal insider tour of Flavor Paper's new showroom in Cobble Hill, Brooklyn.  I got the chance to see a flavor paper favorite – Kabloom being printed for a project I'm working on – live in action.  Josh, Mickel and Matt were nice enough to walk me through the step by step process.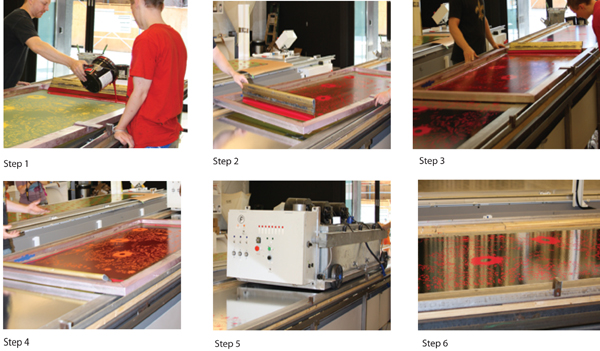 Kabloom consists of five colors, each color is hand-screened separately onto a silver metallic paper.
1.  First, the color is applied to the screen by pouring a small amount at the bottom of the screen
2.  Using a squeegee, the ink is used to evenly spread the color across the screen which creates the pattern on the wallpaper.
3.  Then the screen is sent into place where it is to be printed onto the wallpaper.
4.  The ink is then spread evenly across the screen applying the ink to the paper.
5.  The screen is lifted and placed at the next pattern repeat itself.
6.  A dryer is placed where the screen was removed to dry the ink.
While the ink is drying, steps 1-6 are repeated again.
Once the entire length has been printed with the same screen, the next color is then applied using a different screen until all five colors have been applied.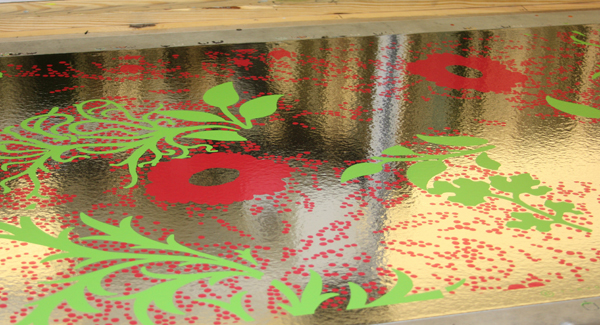 Here is what the wallpaper looks like after the second color has been applied.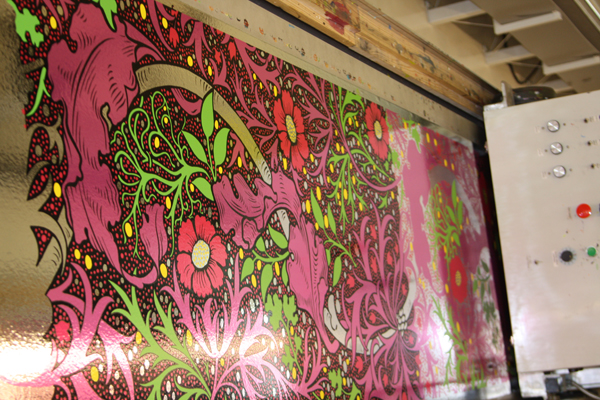 and here, Kabloom has been born!