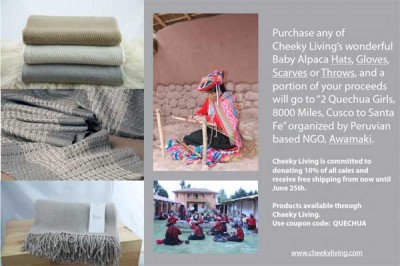 Cheeky Living has a history of working with Quechua weavers to produce our line of baby alpaca products.  It is important that our textiles, which are at the core of our business, are produced in an economically and socially responsible way.
In addition to incorporating socially responsible production practices as part of our business model, we look for opportunities to support the Quechua community in a variety of ways from financial contributions to the Quechua Benefit to socio-economic programs to help the needy in Peru.
We have taken a special interest in Kickstarter's 2 Quechua Girls, 8000 miles, Cusco to Santa Fe project organized by Peruvian-based NGO, Awamaki.  Awamaki is raising money to fund the trip of two Quechua weavers to travel to the Santa Fe International Folk Art Market in New Mexico.
They will represent Awamaki and introduce their woven goods to a larger marketplace and broader range of distribution. As of today (June 2, 2010), they still need to raise $667 by June 27th at 2:20pm EDT.  If they do not reach their goal, their project does not get funded.
Cheeky Living is committed to ensuring that the pledge goal is reached and the project is funded. In an effort to raise pledge dollars and awareness around the grim economic reality for Quechua women weavers, we will donate 10% of total sales receipts through June 27th to help fund their trip.
As an added incentive to our customers, Cheeky Living is offering free shipping on all products sold from now until June 25th. After placing your order, use the following coupon code when you checkout:  QUECHUA.