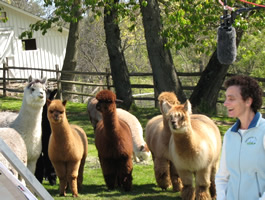 The word is out!  The Martha Stewart Show is airing a segment filmed at Faraway Farm Alpacas on Thursday, September 23rd on the Hallmark Channel.
Martha Stewart's crew spent two days filming a wide variety of scenes including feeding and care, shearing, and the creation of an alpaca garment from fleece to finished product. Faraway Farm's owners, Leda Blumberg and Steve Cole were interviewed about alpaca history, breeding, fiber characteristics and what it is like to raise alpacas.
Faith Perkins, of Quarry Ridge Alpacas, demonstrated carding, spinning and knitting. It is expected that Martha will wear a handmade alpaca garment made by Faith on the live portion of her show.
Congrats Steve and Leda!
Show information:
Faraway Farm on the Martha Stewart Show