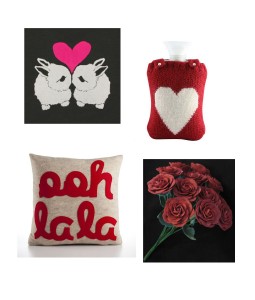 Valentine's Day is here and we're always looking for CHEEKY serious and not so serious gifts to give mom, dad, signficant other or friend.  Here's what I'm hoping to receive this V-Day:
1.  Bunnies Tee:  I am totally diggin' this hand printed tee from Gnome Enterprises using high quality specialty inks that won't wash off or fade on American Apparel's sweatshop-free super soft vintage inspired American Apparel 50/50 tee.  Gnome Enterprises, $25.
2.  I-Heart Hot Water Bottle Bottle Warmer:  Nothing's worse than chilly sheets on a cold, frigid night. Hand knit by women in the Peruvian Andes, this baby alpaca bottle warmer is the perfect gift for yourself or that special someone.  The perfect cure-all for achy backs and sore muscles too! Object Mythology, Large $75, Small $65.
3.  Ooh La La Felt Pillow:  Here's a sassy and playful way to send a message to your valentine. Theses super CHEEKY pillows are made from felt that comes from 100 percent post consumer recycled water bottles.  Alexandra Ferguson at Etsy, $89.
4.  One Dozen Handmade Sugar Roses: Here's the perfect way to send a sweet declaration of love to you valentine.  These almost real roses are hand made from sugar and will last forever.  Available direct from Sugar Flower Cake Shop or Dean and Deluca, $250.
and remember February is American Heart Month, fight heart disease by donating to the American Heart Association.